Patient Profile
Name of Beneficiary: Ms. Dada Gangurde, F/70
Address: Tisgaon Nashik, MH
Eye Operated: LE
Pre-Op Vision: FC
Post-Op vision: 6/12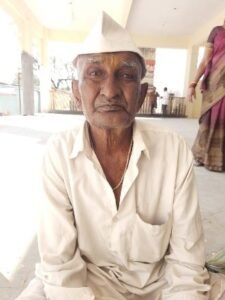 This is the story of an elderly man named Dada Gangurde who lives in a small village in the Nashik district of Maharashtra state. Dada had always been a hard-working farmer and had devoted his entire life to his land. However, as he grew older, he started facing problems with his vision. Initially, he ignored the problem, thinking that it was just a result of his old age. But with time, his vision became so poor that he could hardly see anything clearly. He could no longer work on his land, and he started feeling frustrated and helpless. Though he has family members but all of them ignored Dada's eye problem owing to his old age.
Last few months Dada started vision-related problems in his eyes, which affected his daily routine. He was not able to carry out work-related activities due to poor vision. He also finds it difficult to see distant objects. As a result, that affected his lifestyle and he wasn't able to do his daily activities. The problem of poor vision increased day by day and he had to face many challenges in his life. Dada's family was worried about his health and took him to a local doctor. The doctor diagnosed him with cataracts and recommended surgery. However, Dada was hesitant to undergo surgery as he was afraid of the cost and the risks involved.
One day, a social worker informed Dada about the free eye checkup camp of Tulsi Eye Hospital in the nearby village. He visited the screening camp, where he was diagnosed with a cataract in his eyes. At the campsite, he was properly counselled about his eye problem. He thoroughly explained the procedure in detail. He had taken to the base hospital & he was operated on successfully for a cataract. Dada had regained his vision back.
In the end, Dada's story highlights the challenges faced by the elderly in India when it comes to healthcare. While medical facilities are available, many people cannot afford the cost of treatment, which can lead to delayed or inadequate care. Despite this, Dada's story also shows the importance of family support and the role it can play in improving the health and well-being of the elderly.